Place:  5th Circuit Court of Appeals
West Courtroom
600 Camp Street
New Orleans, LA  70130
Date:  Feb. 6, 2020
Time:  Morning session – 9:00 AM
While the legal case on Feb. 6 in the 5th Circuit Court of Appeals is between McRaney and NAMB (President Kevin Ezell), the real risk to the future of the SBC before a Holy God.  NAMB's insurance attorneys are set to advance their claims for an SBC hierarchy and authority over partners, which would effectively contradict SBC Constitution and autonomy in the SBC.  NAMB's claim of exemption from US law violations based a hierarchal relationship and authority over voluntary partners DOES NOT EXIST.  In fact, Article IV of the SBC Constitution prohibits an SBC entity from even attempting to exercise authority and rights over SBC partners (local churches, Associations, & State Conventions).  NAMB is falsely making that claim before the courts.
What Say SBC Fiduciary Leaders?
What does SBC Executive Committee President/CEO Ronnie Floyd have to say on the risky liability- creating claims of NAMB? NOTHING publicly.  What does the SBC Executive Committee who acts on behalf of the SBC at all times when the SBC is not in session have to say?  NOTHING publicly.  What do the NAMB Trustees who have fiduciary responsibilities in representing the SBC have to say?  DEAD SILENCE PUBLICLY
Public & Recorded Court Proceedings
In 10 days (Feb. 6), the North American Mission Board, as an entity of the SBC, is scheduled to make oral, public, and court audio recorded arguments that falsely claim they as an SBC entity have absolute rights and privileges over one of their 48,000+ mission partners.  NAMB is essentially claiming ecclesiastical defenses as if the SBC were organizationally like the Methodists, Catholics, Presbyterians and other denominations.  THIS WILL BE A HISTORIC LEGAL CLAIM, one that is in direct violation of SBC Constitution.  The position is exactly opposite of all previous SBC arguments before the courts in their defense of ascending liability.  Furthermore, will NAMB leaders allow these excuses to be used to protect violations of tort laws against a SBC partner and its leaders?  Will future attorneys, including the current VA case, use NAMB's own arguments against the SBC?  Absolutely!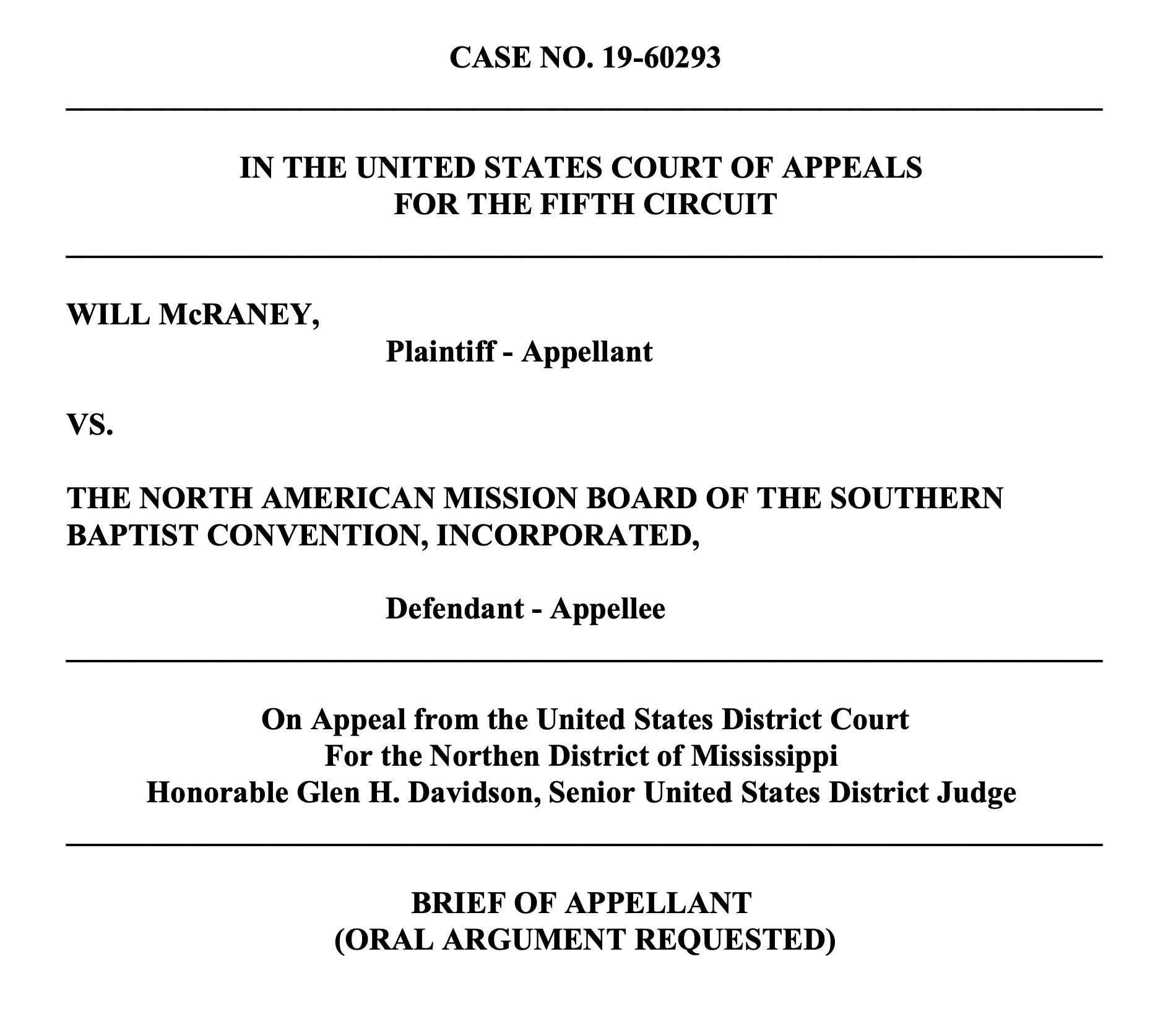 NAMB Hides Behind the "Church" with Deceptively Arguments
Attorneys representing NAMB's insurance company are scheduled to make public oral arguments in open court on Feb. 11.  Assuming consistency with their previously submitted written arguments before the courts in this case, the NAMB oral statements will contain multiple blatantly false defenses and arguments.  Among other misleading claims, NAMB claims to be a "Supporting Organization" while meeting none of the legal or IRS requirements.  NAMB representing attorneys claim Ezell's violations of defamation and tort laws are protected under the SBC church (ecclesiastical) banner because NAMB has absolute rights and privileges over a voluntary partner, the Baptist Convention of Maryland/Delaware and its leaders.  What SBC entity or church body is NAMB claiming to have authority?  Damaged victims have but one authority to protect against and provide remedy for violations of US and State laws, the courts.
2 Possible Outcomes…
Multiple State Executive Directors and SBC national leaders have summarized the possible outcomes in this way:  (1) If the court rules for McRaney because he did not work for an SBC entity and/or because of the SBC governing documents state SBC partners have full autonomy without a hierarchy, NAMB will get a BLACK EYE, but they will recover, or (2) If the court rules for NAMB under ecclesiastical hierarchal privilege and connection, then the entire SBC loses.  This second possible outcome would provide a high court ruling that SBC entities have rights and subsequent liabilities over SBC partners (47,500 churches, 1,100 Associations and 42 State Conventions).  This would set a legal precedent creating a connection for liability to be used in other cases where the SBC and its partners are named.
Will NAMB Attorneys Misrepresent SBC in Open Court?
As an SBC leader, I invite you to join others and attend the court hearings and witness NAMB's arguments.  If NAMB attorneys argue orally in keeping with their written arguments, you may be shocked.  Certainly, God will be offended.  The NAMB Trustees will have allowed the lies to continue into the public courts, and the SBC mission, missionaries, mission capacity, and mission cooperation, along with their partners, to be placed a risk for damages.  When the court date was announced publicly, I received multiple requests for interviews and to do live video after the oral arguments before the panel of 3 Justices in New Orleans.  Still others have inquired as to how to secure a recording of the proceedings.  However, you can AND I invite you to come see it and hear it for yourself.
NAMB Trustee Options are clear
(1) NAMB Trustees will allow their attorneys to proceed with deception and false claims of hierarchal rights in order to protect Kevin Ezell at all cost, thereby placing at the entire SBC and its partners at risk  OR, (2) NAMB Trustees reach a just and redemptive resolution outside of the courts before Feb. 6, 2020.
10 Days and counting.  Save the Date.  Say a Prayer.  Come See for Yourself.
PS1 to NAMB Trustees:   You have fiduciary responsibilities.  When your insurance attorneys speak, THEY ARE SPEAKING FOR YOU!  You can act.  Silence or inaction, puts the SBC, its North American Mission Board and good name and its partners in the hands of the insurance attorneys and the courts.  Praying for you individually.
PS2 to Executive Committee:   A part of the duties of the EC is to act when the SBC in not in session and to address partnership matters.  You have fiduciary responsibilities.  What will you, Floyd, Stone, Guenther and the entire EC do?
McRaney's Filed Appellant's Rebuttal Reply Brief Oct. 2019
NAMB's Defendant's Brief Sept. 2019
McRaney's Appellant Brief Final Circuit Court 7.29.19