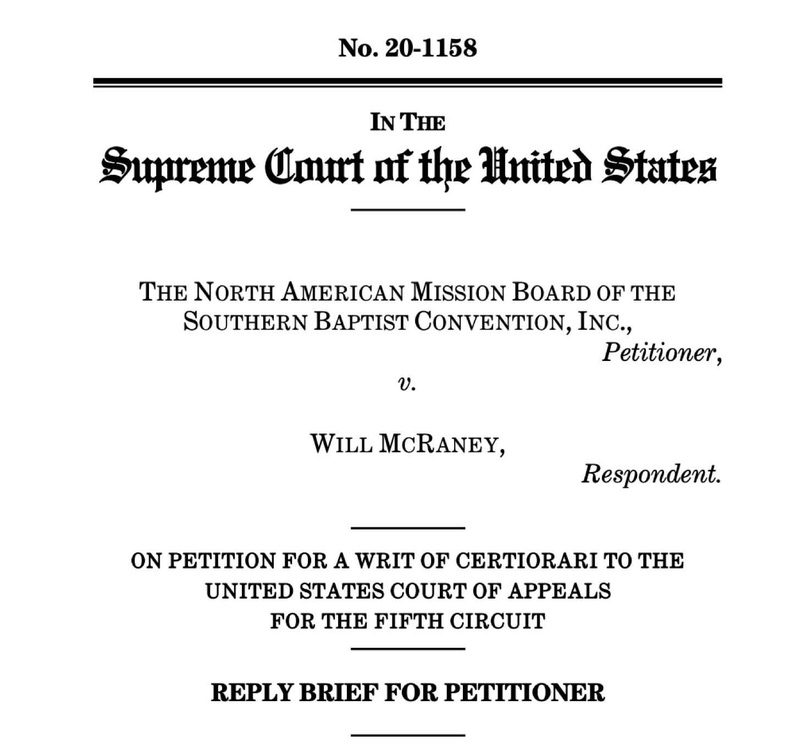 After I won two decisions in the U.S. 5th Circuit Court of Appeals, what a few national Southern Baptist Convention (SBC) leaders said would never happen, has happened.
Actions by the North American Mission Board (NAMB) have taken the future of the SBC inside the halls of the U.S. Supreme Court, and the court's decision could change the SBC forever.
Practically speaking, NAMB is requesting US Supreme Court protections from defamation and tortious interference against ministers who serve autonomous organizations that choose to voluntarily relate to the SBC in various ways. NAMB, along with NAMB President Kevin Ezell and trustees made claims to US District of status and rights over voluntary autonomous Baptist bodies that are forbidden in SBC governing documents.
Three NAMB Deceptions in 1 Sentence
Before the US Supreme Court on May 28, 2021 NAMB Trustees via their attorney submitted the following false statement: "Reverend McRaney attempts to avoid certiorari by emphasizing that, though he was employed by one Southern Baptist entity, he was never employed by the particular Southern Baptist entity that he sued, namely the SBC Mission Board."
There are three deceptions in this one sentence:  First, in my NAMB case involving the Baptist Convention of Maryland/Delaware (BCMD), I have not claimed that I was an employee of an SBC entity.  Second, my employer (the BCMD) was and is not an SBC entity.  Third, the North American Mission Board is not the SBC Mission Board.  It commonly refers to itself as NAMB for short, not the SBC Mission Board.  These damaging false statements scream for answers, (1) Why the deception and what will it cost the SBC? and (2) Will the SBC tolerate Ezell and the NAMB Trustees deceiving SCOTUS?
ERLC Caught Lying to US 5th Circuit Court
Former Ethics and Religious Liberty Commission (ERLC) President Russell Moore added to the deception when he filed an amicus brief, which contained false statements with the courts. He claimed the SBC was a hierarchy, and that the national entities are umbrellas over state conventions, associations, and SBC churches. This is the most impactful court case in SBC history, and the decision will now be made inside the hallowed walls of the Supreme Court. NAMB trustees and the SBC Executive Committee and other leaders have remained silent.  The NAMB Trustees have not required Ezell as a NAMB employee to meet with me and answer my accusations and related questions.
Summary of Beginning with Ezell's Forced Takeover
To summarize, this all began when Ezell made false, damaging written statements against me that then escalated to worse behaviors. When Ezell's lies against me did not give him his desired result, he ratcheted up the pressure on the Baptist Convention of Maryland/Delaware (BCMD) where I was serving as the executive director. In a period of a few months, Ezell threatened to pull matching funding ($1 million annually) for joint ministry and a few joint staff from the BCMD based on a false narrative. Ezell increased the pressure on me by secretly tying NAMB financial partnerships to my termination, according to BCMD President Bill Warren who told others, "Kevin Ezell said that as long as Will McRaney was the state executive leader NAMB would not support the Maryland/Delaware Convention and that this was wrong for him to say." After Warren orchestrated my termination, Ezell not only paid off the bribe for my removal, according to BCMD meeting records, he also increased funding to the BCMD.
Damage Continued, NAMB Trustee Officers Denied w/o Investigation
Ezell did not stop damaging me after my termination from the BCMD.  Ezell and NAMB leadership interfered with scheduled speaking engagements including calling his former church staff member and LifeWay Trustee Chairman Jimmy Scroggins.  Ezell also posted my picture in public view in the lobby of NAMB headquarters as I tried to restart ministry and provide financially for my family.
Seeking a resolution, I sent a five-page Letter of Concern to the NAMB trustees.  The NAMB Trustee officers sent written denial of my claims within 20 hours, instead of meeting with me and requiring Ezell to meet to resolve the claims against him. Days later, NAMB had their two attorneys contact me with legalese. After 12 additional months of seeking a resolution, I secured an attorney to seek a legal solution,  as a non-legal one could not be found.
NAMB's Delay Tactics Take SBC to US Supreme Court as Evidence Grows
Instead of seeking a resolution for the next four years, NAMB filed legal delays and motion after motion to keep Ezell from desiring and facing a fact-finding effort through a discovery phase and then trial. Additional evidence could be publicly gained from sworn testimonies in depositions, interrogatory questions, and subpoenaed evidence – people who want to know the truth, seek truth and the converse is true in this case.
What began with my single complaints against Ezell and NAMB has now evolved and expanded with each legal delay. Mounds of evidence of wrongdoings and corruption at NAMB and across the SBC are surfacing.  Numerous people have been damaged while some in the know are complicit. Some who know about or were victims of wrongdoing have been silenced by taking severances tied to Non-Disclosure Agreements (NDAs) in order to provide their family.  However, still others have shared all manner of wrongs with me. They trust me with information and/or the pains they experienced or inflicted on others under Ezell's failed strategies, misuse of money, and abuse of power to damage people. The stories of pain and wrongdoings are not limited to NAMB but include other SBC entities and leaders. Corruption and all the evil around selfish ambition and pride have far too widely surfaced and must be addressed.
My wife, Sandy, and I never expected to be here, but we are seeking to be faithful in the midst of enormous challenges and value the sustaining prayers on our behalf. We are standing for just restitution.  We are advocating for the historic and governing SBC relationships between Baptist bodies.  We want to see God pleased and righteousness reign in SBC leadership.  We want to keep the SBC from imploding and destroying its future cooperative mission efforts.  Finally, we stand with or for all those known and unknown people negatively impacted and damaged by Ezell and other SBC leaders who have abused their stewardship and position of power.
This article first appeared in SBC News for June 2021 SBC Annual Meeting