SBC President J.D. Greear commented in response to the recent publication by the Houston Chronicle on sexual abuse in the SBC, "It's time for pervasive change.  God demands it.  Survivors deserve it.  We must change how we prepare before abuse (prevention), respond during disclosure (full cooperation with legal authorities), and act after instances of abuse (holistic care)."
Well, JD, in light of your comments, let's hit rewind.
In 2003/2004 NAMB President Kevin Ezell asserted clergy – penitent privilege in order to not comply with a grand jury subpoena in a child molestation case that surfaced while he served as the pastor of megachurch Highview Baptist Church, Louisville, KY.  The perpetrator (a Highview member) at first pled not guilty but then changed his plea to guilty and was convicted of molesting seven boys in the 1970s and early 1980s.
Very Sad News, But Old News… Not Exactly …..
Fast-forward to June 10, 2018…. when my friend and respected SBC journalist for more than two decades, Joni Hannigan pens her own experience as a young women of sexual assault involving a Baptist deacon.  On that day prior to the SBC in Dallas, she shared "My Own #MeToo Story and How Southern Baptists Should Do More".
SBC On Abuse… 
In a subsequent article two weeks later she analyzed the newly SBC adopted Resolution on Abuse.  Interestingly, Resolutions Committee Chairman Jason Deusing clarified by interview that the Resolution's Committee did not intend to provide an "Exception Clause" in the resolution for clergy/penitent privilege.  So, in Joni Hannigan's analysis, she included 5 sentences recounting the choices of NAMB President Ezell to not testify in a child molestation case and not inform his church while he served as pastor at Highview.
Hannigan's article was published on June 26, 2018, and that night she received the following text message from NAMB President Kevin Ezell's PR spokesperson, Mike Ebert.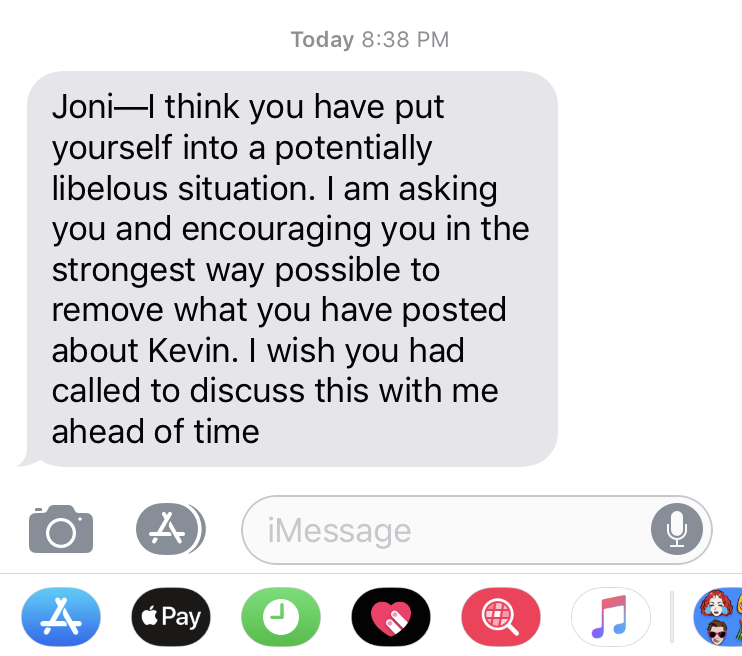 The out of the box response from Ezell was not to call to clarify or send possible corrections but was to accuse this highly respected journalist and sexual abuse victim of printing damaging lies against Ezell.  The language chosen included a threat of libel, which if carried out, would involve NAMB filing a costly civil lawsuit against the Hannigans.  NOW, Joni Hannigan was victimized a SECOND time, but this time with the full force, money and power of the North American Mission Board.
Public Information
Ezell knew that what Hannigan reported was public information and had not been publicly refuted then, or now.  Just because Ezell did not want his past choice to not help the prosecution with his testimony "outed" is no reason to FALSELY ATTACK and ACCUSE Hannigan for reporting on what SBC President Greear stated we should do – "full cooperation with legal authorities".  NOTE: Ezell did not go to the authorities, the authorities came to him for help, and when they did, he refused under clergy privilege.
Questions:
Was Ezell more concerned about his personal image or the image of Highview in exercising clergy-penitent privilege than he was for the victims and justice for them?  And/or … Was Ezell greatly disturbed over Hannigan's retelling of his decision to not inform the members of Highview of the perpetrator's acts and conviction?
On Feb. 3, 2019, a full seven months later after Ezell threatened her with libel and accused her of lying in her article, she was able to push past her Ezell created fears to publish "A Menacing Message" in which she recounts the threat against her.
What Did Mohler, Akin, Moore, Scroggins and Rainer know and approve?
Was Ezell seeking to cover up the fact that Al Mohler, Danny Akin, Russell Moore, Jimmy Scroggins, and Thom Rainer were members of and leaders in Highview Baptist in 2003 when Ezell was pastor and a female church member encouraged the victims to come forward?  Did any of those men know and encourage Ezell's silence before the court and the church members?
Summary
A victim courageously speaks.  A threatening coward is exposed.  What will Southern Baptists and NAMB Trustees do about this behavior and these patterns of behaviors?  Will this be tolerated?
If Southern Baptists are to ever walk in the light, even with our human frailties, we cannot have the President of NAMB or any other SBC entity creating a culture of silence and fears with gag orders, non-disparagement clauses, threats and secrecy.  Victims shouldn't be victimized twice and we as Southern Baptists can create a different culture over time.  BUT, in order for that to happen, we have to start now.
Moving Forward: Three immediate actions
I am requesting that JD Greear as the President of the SBC exhort Kevin Ezell to offer a public apology to Joni Hannigan as a matter of demonstrating his repentance. This act would demonstrate a concern for and value of a sister in Christ who has been threatened and damaged, and demonstrate that President Greear cares more for Joni Hannigan than he does about his personal and ministry relationship with NAMB and Kevin Ezell.
I am requesting that NAMB Trustees review the matters with Joni Hannigan and also issue an apology to her and make some restitution to her for the offense of Kevin Ezell, while taking the appropriate disciplinary action.
I would request that all SBC entities take the necessary actions to publicly void all non-disparagement clauses and make public their whistleblower policies.
PS  – Does the retaliatory behavior of Kevin Ezell against a victim/journalist in Joni Hannigan have parallels to what Ezell did against Bobby Gilstrap in Michigan and Atlanta?  Or, did what Ezell do against me (McRaney) in Maryland and Florida and by posting my picture at the Alpharetta headquarters fit this pattern of retaliation?  We know there are others who have been treated in like manner.
Not above reproach.
Does not meet the standard for spiritual leadership.
Not good stewardship of the trust of Southern Baptists and our cooperative mission efforts.
How Now Shall We Live?: NAMB Presidents past choices and current threats – Email with numerous links, questions to be answered and more.  This email is in the hands of State Baptist Editors, State Baptist Executive Directors, select EC staff & officers, and select BP staff
Joni Hannigan's 3 Related Articles:
Hannigan's "Opinion: My Own #MeToo Story & How Souther Baptist Should Do More"
Hannigan's "News Analysis: Was SBC #MeToo Resolution on Abuse a Band Aid for Larger Issues?"
Hannigan's "A Menacing Message"